---

Maria Dedevesi ( RenePolumorfous ), one of the most acclaimed Cosplayers in Greece, talks to us about Cosplay and her work!
---
ART IN ALL ITS GREATNESS !
---
Everyone attending conventions in Athens, but also some in Thessaloniki, Greece, knows her! For years now, she has been captivating us with her creations, whether they are Cosplays, illustrations or crafts! She simply excels in all of them! Her name, Maria Dedevesi, or otherwise known as RenePolumorfous!
One of the oldest Cosplayers in the community! From 2009 until now, she continues with no rest, while having around 40 top Cosplays ( and not only ) in her repertoire! She has been distinguished in various Cosplay Contests in Greece, with the biggest distinction being the representation of Greece at the European Cosplay Contest "EuroCosplay 2017"! But she doesn't limit herself only on stage, being occasionally part of the jury in various Cosplay Contests!
We find her in almost all major conventions in Greece with her own table, where she exhibits her creations to the public, which range from her awesome illustrations, her Cosplays, to her perfect crafts, as well as all kinds of creations one can think of, which honor her ( polymorphic ) nickname! Her talent in whatever she takes up, surprises! Its no surprise that she's also the creator of Cosplayers//GR's logo!
Let's talk with her in detail about everything!
Samus Aran from Metroid – Photo by Cassiel Cosplay Photography
Find Renepolumorfous on the following media!
Facebook - Twitter - Deviantart - Tumblr - Twitch - World Cosplay - Instagram - Instagram - Instagram

THE MANY FORMS OF ART !
---
1) Tell us a few words about yourself! What do we need to know about you?
My name is Maria Dedevesi. People also know me as RenePolumorfous . I'm a graphic designer – video game illustrator. At the same time I also cosplay.
Alcina Dimitrescu from Resident Evil: Village
2) When and how did you get started with Cosplay and what got you into it? What was your first Cosplay? What has Cosplay offered you so far?
I first heard about cosplay from an old friend who had been informed about it through the internet and we liked it as an idea. Using wardrobe clothes and very simple props we dressed up as characters from Lineage 2 during carnival. This was my first amateur cosplay. Cosplay became later part of my work.
Original Elf – Photo by SpirosK Photography
Elf Moonlight Sentinel from Lineage 2 – Photo by SpirosK Photography
3) What kind of characters, sources or types of Cosplays do you choose for your Cosplays? Are these choices based on personal interests, and if so, when did you start getting interested in them?
The main source of the cosplays I choose is videogames, with small exceptions and characters that catch my attention and at the same time I can support in appearance. I have been playing videogames.
Demon Hunter Night Elf from World of Warcraft – Photo by SpirosK Photography
4) Which ones are your favorite Cosplays out of all of which you've done until now? Which characters do you think were the most popular? Which character do you want to cosplay most in the future?
First and my favorite, Neeko from League of Legends, because she's cute and colorful and polymorphous. I think she suits me perfectly. Then, I would choose Elf Draconic from Lineage 2, where I really enjoyed the crafting part, despiter being difficult and one of my first big props.
Definitely, the most popular character was Demon Hunter from World of Warcraft.
I usually notice a character that impresses me, make it and then announce it. A favorite character in my future plans is Bayonetta.
Alcina & Daniela Dimitrescu from Resident Evil: Village
5) What's the most difficult Cosplay you have done until today? What makes it the most difficult?
The most difficult cosplay was High Elf Gunner from Tera Online, because it had a complex and bulky weapon and suit with lots of details and embroidery.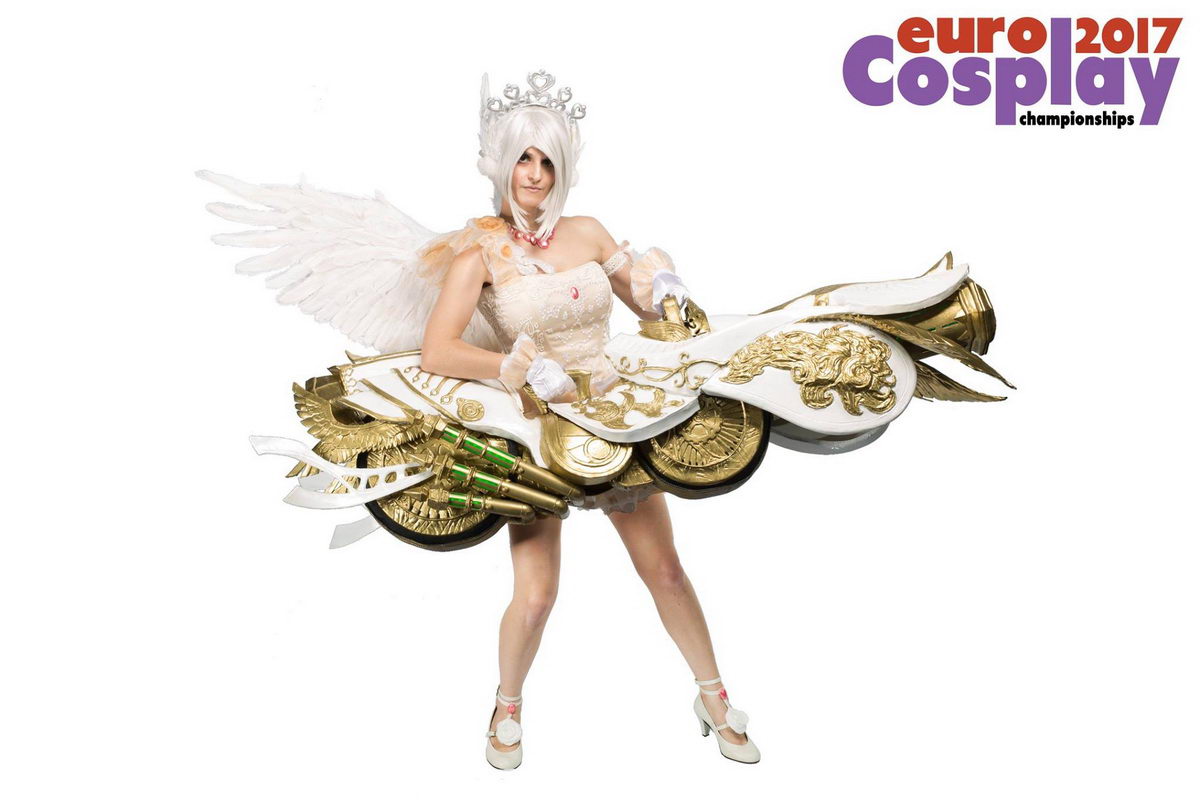 High Elf Gunner from Tera Online – Photo by Digital Rogue Photography
6) How did you acquire your knowledge on creating Cosplays and what kind of Cosplays do you prefer to wear?
It's experience that was gradually gathered through many trials and creations. Concerning sewing, I took lessons in a private school.
I am certainly impressed by armors and mascots, but over the years I started choosing more comfortable and easy to wear suits, so that I can wear them longer without getting tired, at events.
Akali from League of Legends – Photo by Salamander Cosplay & Photography
Ryuko Matoi από Kill la kill
7) What do you think about ready-made Cosplays? Are they part of your ensemble as well?
I have no problem with ready-made costumes. There are people who do not have the time or knowledge to create a cosplay, so they can get one ready-made and enjoy it.
For example, in Zero Suit Samus ( Metroid ) I got a ready-made bodysuit and completed it with props and applications, as well as Catwoman's ( The Dark Knight Rises ). Also some cosplay photoshoots are done on the spot using wardrobe clothes.
Golden Deva from Blade & Soul – Photo by Elena Vasilaki Photography
8) How much effort, time and money does it usually take to create a Cosplay? What is the most common plan and methods you use to create a Cosplay? How important is wig styling and make up in all this?
The difficulties and duration of a project depend on how big it is and what it is intended for, as far as how much attention to detail you will give to it. The same goes for the money you'll spend.
I start with a general shopping plan and cost estimate. The first part is the creation of the pattern, purchase of materials and creating. I can work on clothes and props at the same time, depending on my mood and if I have the right materials available.
I consider a wig and make up to be essential pieces in a beautiful cosplay's outcome. That's why some cosplays only consists of these two.
Nidalee & Katarina from League of Legends – Photos by Cassiel Cosplay Photography
9) Do you consider your involvement with Cosplay a hobby or something more serious? How does that define the way you present your work?
It started as a hobby but then evolved into something more serious, which I won't call work, but has helped me financially too, at times.
The way we all cosplayers present our work is through photos and events.
Neeko from League of Legends – Photo by Elena Vasilaki Photography
10) You also deal with the creation of cosplay props undertaking corresponding commissions. What can one find on your part and what led you to take it up as well?
I have seldom dealt with commissions concerning individuals and companies. I usually do not have the time because I have my job and I want to spend time on my personal cosplay.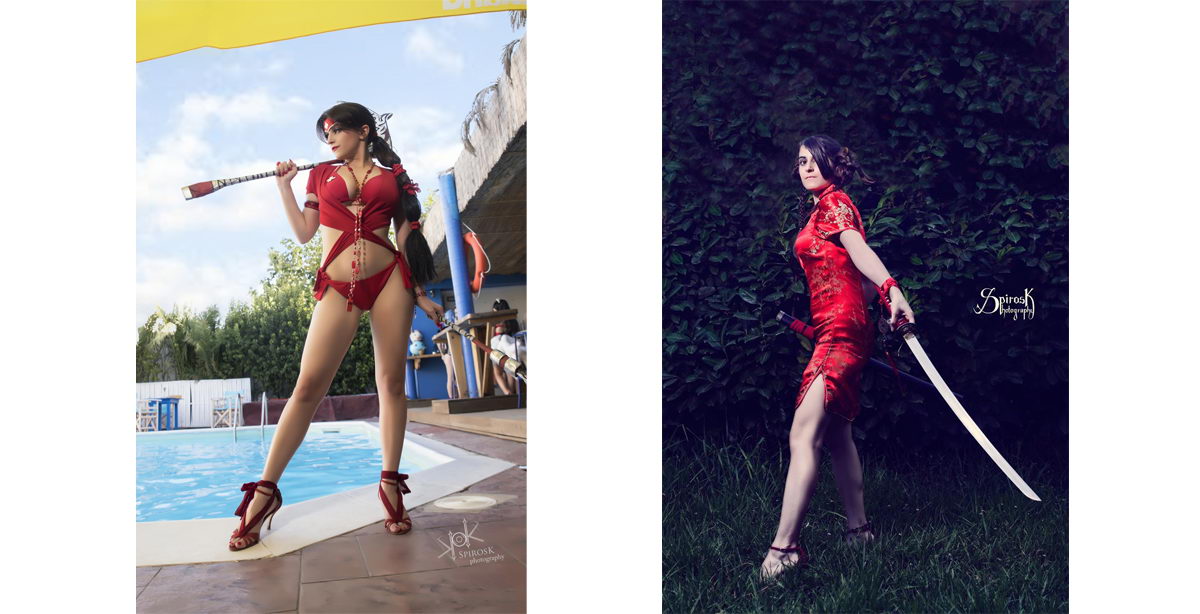 Akali from League of Legends – Photo by SpirosK Photography
Leifang from Dead or Alive 5 – Photo by SpirosK Photography
11) How did you feel the first time you appeared in public or at an event wearing a Cosplay. Describe your experience to us.
My first public appearance was in a mall with two friends, it was during carnival and I didn't feel uncomfortable. Some Lineage 2 players also happened to recognize it and that gave me a lot of joy.
Nidalee from League of Legends – Photo by SpirosK Photography
12) How did you end up attending Cosplays events intensively and what experiences did you get from it?
Many of us started with cosplay parties and then big events started taking place in which cosplay started getting integrated through contests and parades.
Akali & Evelynn from League of Legends
13) You attended various events as a Cosplayer exhibitor. Tell us about the content you display on your table. How do people who visit you treat you and what impact do you notice regarding your work at events and online? Are you generally satisfied with people's response to your work all these years? Is there support from relatives and friends?
In my booth you will find posters from my illustrations, handmade themed accessories, some of which are related to cosplay ( Pokemon headpieces ) and various fashion trends ( Steampunk hats ). Headpieces with horns, plush ears inspired by anime and games and various other types depending on the trends of the season.
People have supported me with a lot of enthusiasm and lots of love and I have appreciated this very much. I also definitely owe a big thank you to my family and my friends who are always by my side.
Anivia from League of Legends – Photo by Cassiel Cosplay Photography
14) You have attended Cosplay events in Athens, but also in Thessaloniki. Was there a difference that grabbed your attention you between the two cities in terms of Cosplays and related events?
Each event has its own culture and beauty and I believe that in both Athens and Thessaloniki there are respectively exceptional events and very good cosplayers.
Nurse Joy from Pokémon – Photo by Chris Kon Photo
San from Princess Mononoke – Photo by Mary Chan Cosplay & Photography
15) Did the theme and size of an event ever affect your decision to visit and dress with Cosplays at them? What would you say were your favorite events so far?
The theme is definitely a factor for what outfit I'll decide to wear. The size of an event doesn't matter to me. But it definitely plays a role in the costume's choice whether I will be an exhibitor, whether I will be a guest or a contestant, keeping in mind whether the costume will be comfortable or impressive. I don't want to choose any, since I like participating and supporting all events.
Elf Moonlight Sentinel from Lineage 2 – Photo by SpirosK Photography
16) What result do you expect from outdoor Cosplay photoshoots or respective studio photoshoots in which you participate? Which type do you prefer?
The goal of outdoor photoshoots is a more real and impressive result and I prefer that one when I have the opportunity. Also, in spirit of your question, I want to take the opportunity to thank you and all the photographers I have worked with, for helping me present my costumes with your amazing work.
Miss Fortune from League of Legends
17) Do you think that Cosplay as a subject will continue to be part of your daily life for a long time? If so, what are your plans for the future in this area that you have not yet been able to implement? Is there a long term goal or personal dream that you want to achieve related to it?
I think I still have some years left to dedicate to cosplay. Surely there are still many favorite costumes and new things and ideas will always appear that will expand my plans.
Eevee from Pokémon – Photo by Dimitris Papadopoulos Photography
Bowsette from Super Mario Bros – Photo by Cassiel Cosplay Photography
18) What is your opinion, in proportion to Greece's size, in terms of the number and level of Greek Cosplays, but also the level of events where they attend? What evolution around them did you notice over the years?
My opinion is that, proportionally for Greece, the level and number of events is satisfactory. As for cosplayers, I see new faces every year and that's really nice. Regarding their evolution, it's a matter of attitude and time to be able to create and show their work. I believe that Greece has very good cosplayers and they can evolve even further.
Evelynn from League of Legends
19) What is your experience from Cosplay events outside Greece and what's your opinion about them compared to Greek Cosplay events? What's your opinion about the quality of the Cosplays you came across in them? Which event do you remember the most and why?
I've visited an event twice in the UK, once as a guest and a second time as a representative at EuroCosplay. Certainly the conventions are comparatively much larger and richer in content. As far as cosplay activities are concerned, they have many events, panels, workshops, shows, parades and parties with many participants and a large number of guest cosplayers. Definitely, what left the most impression to me is EuroCosplay 2017, because I was feeling joy on one side, but also the stress of my participation.
Original Elf – Photo by Elena Vasilaki Photography
20) Do you think the provided Cosplay activities at various events are satisfactory or is there something you would still like to see there regarding Cosplay?
I think that almost all events tried periodically to support cosplay with various beautiful activities ( workshops, contests, parades ). Certainly in some events there was no experience related to organizing, but there was also not a corresponding support in number of participants by cosplayers in several cases. As a result, turning off the mood of many organizers to support the cosplay scene with activities and be content with the presence of a foreign famed guest cosplayer and exhibitors.
Yennefer from The Witcher – Photo by Cassiel Cosplay Photography
Original Character from Borderlands 3 – Photo by Cassiel Cosplay Photography
21) Is there anything more that you would like to see in the Greek Cosplay scene in general?
Initially we hope events will start happening again so that we see how this will go on. Until then, I will continue to be an active cosplayer working on small projects at my home.
Golden Deva from Blade & Soul – Photo by Elena Vasilaki Photography
22) You have occasionally participated in Cosplay Contests and Cosplay Parades on stage at various events. How did you feel the first time you went on stage? How do you feel now every time you go up?
The first time I went on stage was in 2012 as Nurse Akali from League of Legends, I was very hesitant, got stressed and made a lightning ninja pass on the stage. Those who managed, caught a glimpse of me. Hahaha.
Now I know what I have to do and I've gained confidence in myself, I'm not scared of the presentation and the stage, so I'm enjoying it. What worries me at contest is avoiding any damage or mistake during the presentation.
Miss Fortune from League of Legends
23) Occasionally you placed high in various Cosplay Contests. Tell us about those wins and how you felt in those moments.
Winning a competition is always nice, because each cosplayer is rewarded for his efforts. You also see the people's love from the messages you receive afterwards and it gives you the energy to continue making something even better.
Fiora from League of Legends – Photo by Cassiel Cosplay Photography
Catwoman from The Dark Knight Rises – Photo by Cassiel Cosplay Photography
24) You were also a member of the jury at Cosplay Contests. What is your experience from this opposite side of the stage? Did you feel any pressure or difficulty in this role?
It is not very pleasant for me but on the other hand it is an honor to be chosen for this position. At times I participated as a judge I felt a lot of pressure, because it's a responsibility that is getting judged the same way we judge. People often do not have the knowledge to judge the crafting part and are dazzled by the volume and impressive showing, not taking into account the details we've seen in the progress book and during prejudging. There were times when I was misunderstood by cosplayers who considered their rating unfair.
Nurse Joy from Pokémon – Photo by Cassiel Cosplay Photography
25) How important do you think is a distinction in a Cosplay Contest in terms of whether it was worth the effort someone put into creating a difficult Cosplay? To what extent do you think such a possible distinction should influence the choices of a Cosplayer while creating a Cosplay?
Let's start with the fact that we cosplay for our own pleasure. It's a beloved hobby and we create a character we love very much. How much effort and money we will spend on it is our decision and has nothing to do with the prizes we will receive in case of victory.
Water Genasi & Cult Witch from Dungeons & Dragons – Photos by Cassiel Cosplay Photography
26) Do you think that off stage roleplaying should be a key part of a Cosplayer or do you consider it practically inapplicable?
It is definitely a very important part to impersonate the character of your costume in photos, videos and shows. But you can't do it all day.
Li Li from Heroes of the Storm – Photo by Dimitris Papadopoulos Photography
27) Is there any important or funny experience you experienced during your time in the Cosplay scene that you will never forget?
A special moment was when I was styling Nurse Joy's wig from Pokemon, which was very difficult.
My hair was showing on the back no matter how I combed it and I had to cut a large part of the end of my hair on the neck with a razor machine.
Original Steampunk Cat – Photo by Chris Kon Photo
Original Dark Deer
28) What is the first thing you would say to someone who wants to get into Cosplay, either seriously or not? Do you think it's easy to get started?
I think it is very easy to start with less complex costumes and see if they like it. If someone wants to evolve, they will research techniques and do tests. Little by little they will get better.
It's something that takes a lot of time and lots of love. So I would ask him "Are you up to it?" Otherwise have fun with a nice ready-made outfit or wardrobe clothes and make up.
Classic Pinup – Photo by SpirosK Photography
29) Is there anything last you would like to share with our readers?
Yes, I would suggest to readers who love cosplay and didn't have time to take it up in the past, to get through this joyless times we are stuck with, by creating even something simple with leftover materials found in their home and encourage their friends to do so too. Creating always has a pleasant effect.
I hope that this difficult situation experienced by the whole world will pass as soon as possible and that our life will return to its normal rhythms, without restrictions. To be able for everyone to be together and enjoy our hobbies, our friends and our life in general.
Thank you Cosplayers//GR!
Follow us on social media and share: