---

The big Comic 'N' Play 2022, the oldest comics convention in Greece, returns for its 20th time! 2-4 December at Thessaloniki Port Warehouse C'! Check out everything about it! Be there!
---
ΤΗΕ OLDEST COMICS CON IN GREECE IS BACK

!
---
3 days full of Comics, Board Games, Artists, Exhibitors, Workshops, Exhibitions, Shows and of course Cosplay, with more than 3.000 unique visitors attending every year! FREE entrance!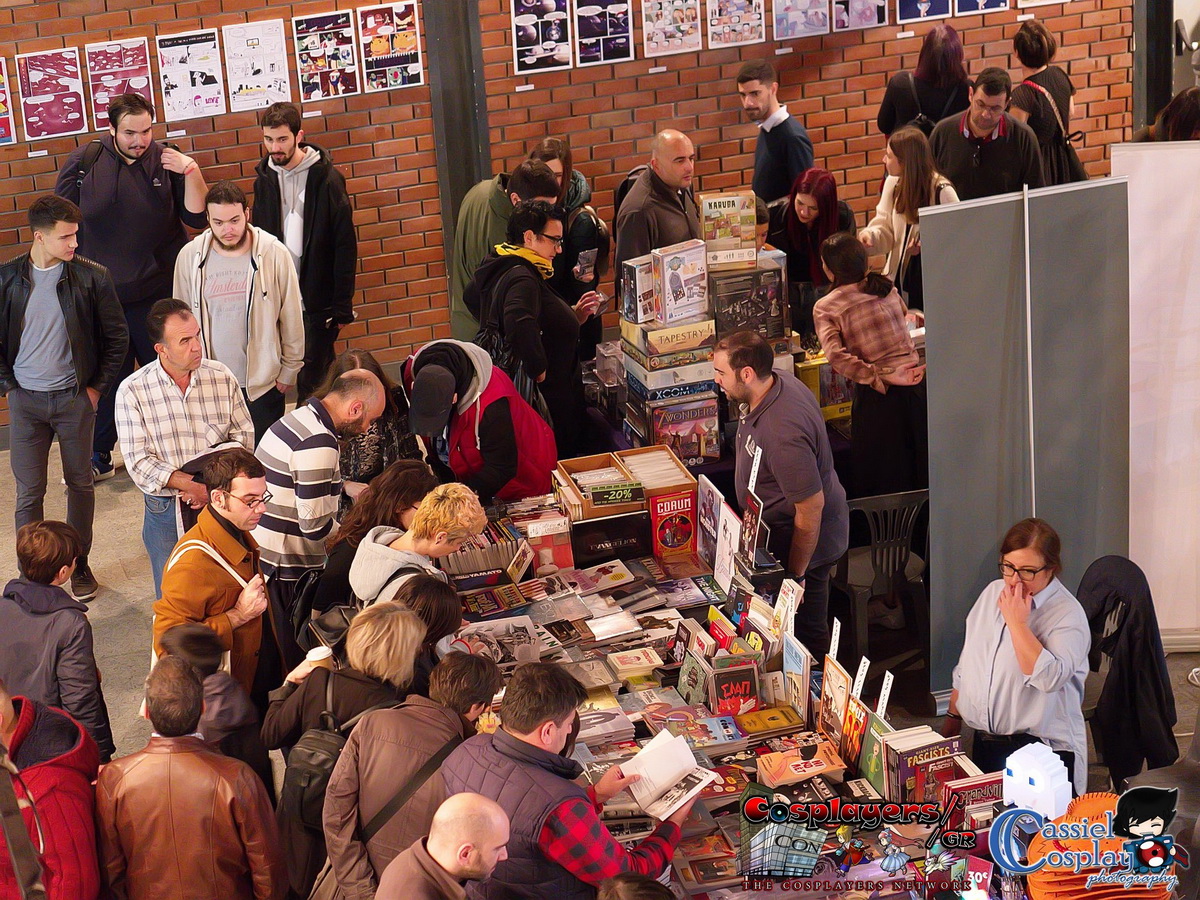 Exhibitors at Comic 'N' Play 2019 – Photo by Cosplayers//GR
This December, Thessaloniki celebrates the 20th anniversary of Comic N' Play, an experience for all ages! Enati Diastasi, in collaboration with the Greek Association of Friends of History & Strategy Games (E.S.F.I.P.S.) present the 20th exhibition of Comic 'N' Play, under the anniversary title "The 20 Year Olds", giving the opportunity for the city's public to meet their favorite artists, play board games and get books and gifts just before the Christmas holidays.
Comic 'N' Play 2019 – 47 of 55 Cosplays and general footage – Video by Cosplayers//GR
Thirty Greek and five foreign artists, who participated in the event in the past, create original stories to commemorate the 20th "birthday" of the longest-running comics convention in Greece! Among other things, visitors will have the opportunity this year to see up close posters and selected photographic and other kinds of materials from the event's rich archive, while works being hosted in the "20 Year Olds" exhibition will be included in the exhibition's eponymous anthology, whose cover was designed by this year's honored artist, comic creator and illustrator Nikos Kabasele and which is an official print of the festival.
In this year's bazaar the publications Enati Diastasi, Mikros Iros, Protoporia and Jemma Press will be participating, as well as the bookstore Magikos Kosmos. The gaming and collectibles scene will be represented by Anime House, Angry Nerd, Ε-Fantasy.gr, Mystery Bay, Otakustore.gr and Thinkz, with smart board games, card games, collectibles, gift items and constructions , the drawing and painting supplies scene by Domi, while finally the clothing scene by Rant Jam.
Artists Alley at Comic 'N' Play 2019 – Photo by Cosplayers//GR
In addition, visitors will have the opportunity to get to know up close the work of more than fifty young – and not only – Greek comic creators in the field of self-financed publications, but also the opportunity to get in touch with the hobbies of origami ( Chartinos Kosmos ), cosplay, bodypainting ( beauty and make-up department of IEK Alpha ), miniature painting, but also to entertain themselves, either with the board games organized by the participating clubs and groups ( E.S.F.I.P.S., Dragon Tale, Go.Roleplay, Goblins on Board και Greek Tolkien Society-The Prancing Pony ), or to engage creatively with the free workshops offered by the "Children's Corner" of the event, curated by Grammatochymos.
During the parallel activities of this year's event, visitors will have the opportunity to participate in the board game design workshop curated by Goblins on Board, while on Saturday, December 3, the stand up comedians Giorgos Vavouras, Sofia Vogiatzi, Pavlos Papadopoulos and Alexandros Charizanis will present the interactive "Comic N' Cthulhu" show, a hilarious introduction to the world of role-playing board games.
Comic 'N' Play 2022 Trailer
The celebrations for the 20 years of Comic N' Play will be completed with a free rock concert at the Eightball Club ( Pindou 1, Ladadika ) on Sunday, December 4, with the participation of the band Silvernite for fans of the retro '80s sound and with guests band Oceandvst, who are back in full force with explosive new music single 'NME'!
For interested teachers, guided tours of school departments of all grades will be held on Friday, December 2, from 09.30 to 18.00, while on Saturday, December 3 at 19.00, the book presentation of the title "Legal Guide for Educators" will take place by the lawyer El. Dalabyra.
Comic 'N' Play 2022 Event Schedule
Find out everything there is to know about Comic 'N' Play, the big comics & board game convention of Thessaloniki, Greece, and get to know its previous events, along with all their info, Cosplay lists, photos and videos, by reading our exclusive interview with the organizers, HERE!
Follow us on social media and share: